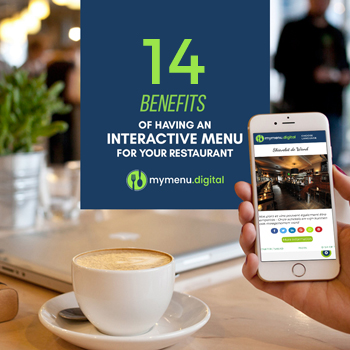 100% free!
Instant and free translation of your menu into 120 languages..
A feature that will have an immediate impact on the satisfaction of your customers.

Update your interactif menu directely with your phone.
You have to change the photo of your dish? change the description? to deactivate a dish? no worries do it directly and on real time from your phone.

Notification.
Your customers will receive a notification on their phones for each new dish or menu that you have modified.

Social Networks.
It allows your customers to share their favorite dish or menu on their social networks.
Means thousand visite on your menu and restaurant.

Comment.
Know the opinion of your customers, the customer can let comment on each dish, improve their satisfaction on your products.

I like
The customer can let "I like" for each dish.

Selection of dishes.
The customer can select himself the desired dishes or drinks

Order over the phone.
The customer can order via his phone, and the order sent to the bar or kitchen.

Innovation and technology
boost the image of your establishment. The mymenu.digital allow you to modernize your concept, improve your customer relationship, and boost your turnover.

Increase the sale
of your products by at least 20% it's confirmed! people order a lot more when they see the pictures.

Featured Products.
You can more easily update and promote your offers on mymenu.digital on real time and directly via your phone. Then you have the option of puching a specific product to sell off your stocks.

No limit menu.
Add as many menus for different areas as you want! a menu for the day, a menu for the evening, a menu for the beach etc...

Avoid Reprints.
Avoid cost to reprint your menu every day.

QRcode On Tables.
No limit Qrcode printed on your existing printer.